In early Spring in the Santa Barbara County of California, you drive through rolling hills of bright green grasses and shrubby dark green Oaks. Tucked away in these hills is the Chamberlin Ranch, which has been family run since 1929. Nowadays, Russell Chamberlin and his family are doing things a bit differently.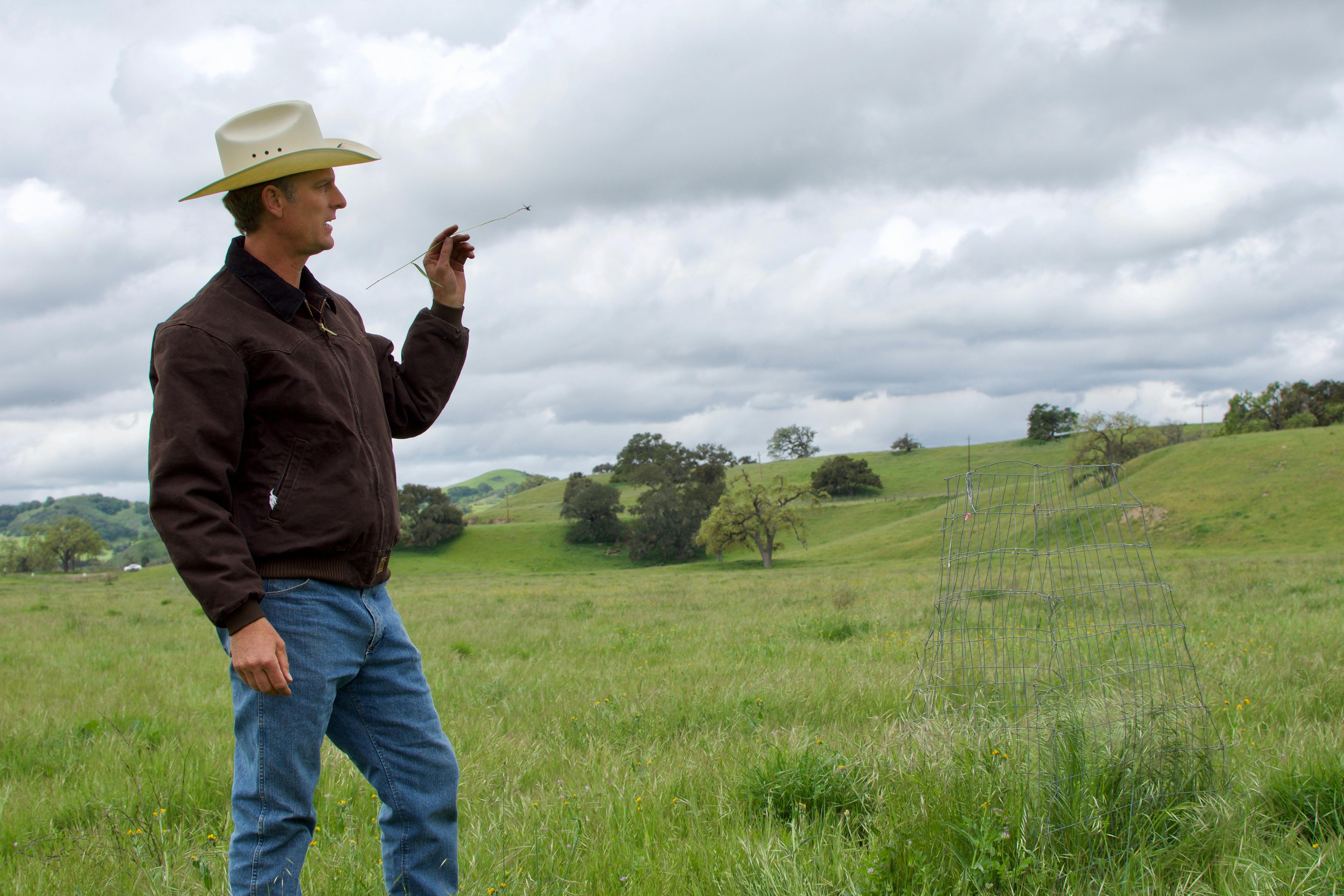 After pursuing an Art degree, Russell came back to the farm only to find it barren, brown and not producing the quantity and variety of grasses needed to sustain healthy cattle. He set out to find ways of improving the land. This research led him to theories of regenerative and holistic land management which take into consideration the benefits of caring for the entire ecosystem in and around the farm.
The predominant agricultural theory of the past 50 years has been to "get big or get out." It's a system that has produced cheap food for a growing population, but it has also robbed nutrients from the soil and altered the natural carbon cycle. As agriculture has industrialized, it has become the second largest sector responsible for greenhouse gas (GHG) emissions, and the leading reason of deforestation. The result on farms is soil that has been stripped of its necessary organic carbon and nutrients. Globally, these practices have contributed to a warming climate that has led to more extreme conditions, including droughts and flooding. This combination leaves our farmers and ranchers at risk from changing weather, and in need of a better way forward.
Carbon Farming is an approach to agriculture that restores the land and, as the name implies, uses farming techniques to draw down carbon from the atmosphere to the soil. Conventional on-farm practices such as tillage, forest conversion for agriculture, and the creation and application of synthetic fertilizers all move carbon from the soil into the atmosphere. Within the carbon cycle, plants absorb carbon from the atmosphere and use the process of photosynthesis to convert this into carbohydrates that are the basis of plant matter, root structures and root exudates all of which build carbon in the soil and support a vibrant and healthy soil community. By restoring carbon to our soils, we can restore their fertility, increase yields, and water infiltration and storage.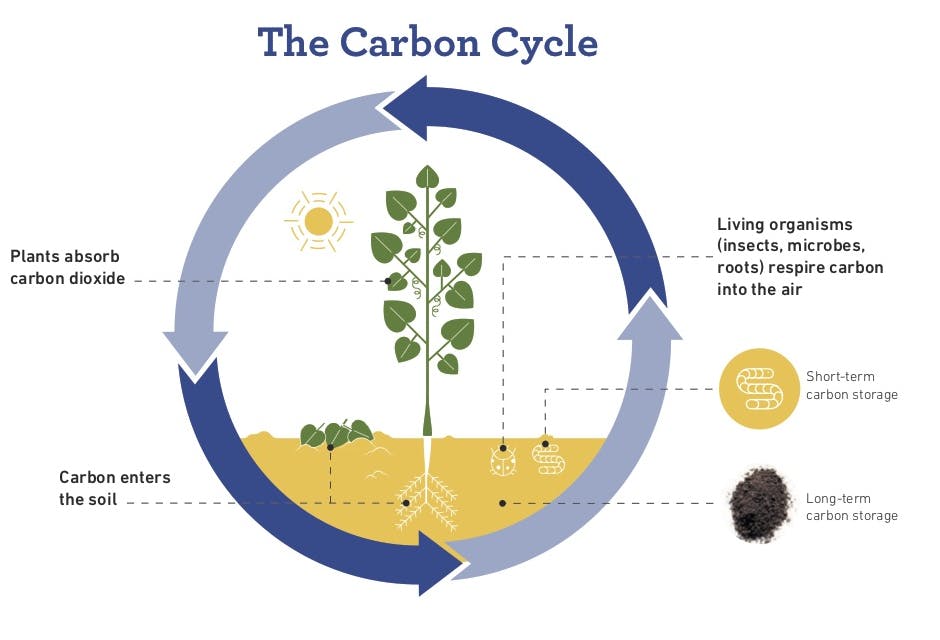 What's good for increasing our production can also be good for reducing our carbon footprint. And so Russell turned to Anna Olsen, the Executive Director of the Cachuma Resource Conservation District who in turn engaged the Carbon Cycle Institute and all three together created the Carbon Farm Plan for Chamberlin Ranch. The Carbon Cycle Institute (CCI) is a nonprofit and LDF grantee that helps farmers understand and engage the central role of carbon in the farm ecosystem through development and implementation of a Carbon Farm Plan (CFP). These plans are detailed conservation plans that identify on farm strategies that can be brought to bear to increase yields, reduce GHG emissions and increase overall soil carbon sequestration for multiple on-farm benefits. CCI takes a practical approach when developing CFPs; the goal is to develop a tailored, carbon-focused conservation plan that fits the particular farm. The plans are resource intensive to create and need a dedicated team to develop.
A Resource Conservation District (RCD) is a government created entity that was put together during the Dust Bowl Era. This period during the late 1930's to 1940's was characterized by sandstorms in the Great Plains that often-created blackout conditions. They were caused by a series of ecosystem mismanagement decisions including converting native grasslands to cultivated crops, leaving the soil bare. After several years of drought conditions, the soil became dust, quickly picked up during strong winds. The RCDs were created in an effort to reduce the wind soil erosion and the catastrophic economic loss for farms. Based throughout the US and typically grouped by region, they are responsible for a variety of land and water conservation efforts. Because of their historical focus on soil conservation, RCDs know the value of agriculture as an effective tool for ecosystem management and so provide tools for farmers interested in Carbon Farming. RCDs are an essential partner for ranchers and farmers to implement on-farm conservation practices.
As Chamberlin Ranch developed its CFP, compost application and improved grazing management on its rangelands became a top priority for Russell. Compost is an effective way to not only restore carbon in soils, but to increase soil fertility and water holding capacity as well. Grazing management is the careful balancing act between grass production with cattle production. It's done by carefully monitoring pasture, determining when, where and for how long cattle will graze a plot in order to get the most out of the grasses without overgrazing. It is the single most powerful tool available to the livestock manager seeking to enhance ecosystem conditions on the grazed landscape. The Chamberlin Ranch Carbon Farm Plan utilized a variety of landscape mapping techniques to identify ecological characteristics of the ranch. With this data they were able to determine areas appropriate for compost application as well as numerous other carbon-capturing practices and helped inform grazing management decisions. Some of the considerations made included: where it was not too steep so that the compost would runoff, where it had the right soil type ideal for storing carbon, and where it was far enough from drinking water sources. As useful as the maps and analyses are for the ranch, Russell also believes CFPs are a great tool to communicate to ranchers, community members and government entities about how the work producers are doing to improve yields is also good for the environment.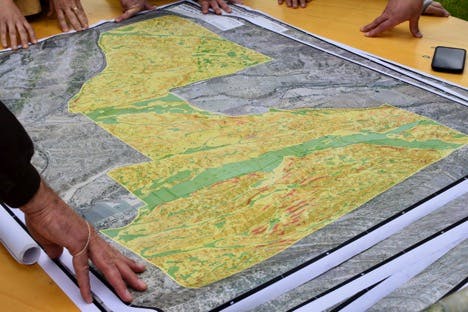 State governments are now waking up to the need to provide resources to farmers to accomplish this work as well. The Healthy Soils Initiative in California provides grant funding to farmers interested in regenerating their soils, and verifying the results. Using his CFP as part of his application to the Healthy Soils Program, Chamberlin received a grant to apply compost on his grazed rangelands and test the makeup of gas released in these areas. The USDA-Natural Resources Conservation Service also has a program that encourages conservation on farm through grants. This program, the Environmental Quality Incentives Program (EQIP) will provide partial funding for over 200 different practices and Russel was also awarded a grant under this program.
Farming is a business, overall these practices need to increase a farmer's income. Though still fairly new, CCI reports that CFPs are indeed showing increased yields, potentially leading to higher income and greater carbon sequestration. We need to support the movement of more farmers and ranchers in this direction; however, they can't do it on their own. Farming is already a full-time job, operating in many cases on razor thin economic margins. We cannot ask farmers to also be grant writers, biologists and soil scientists without providing additional support for implementing practices that will benefit us all. Russell himself says,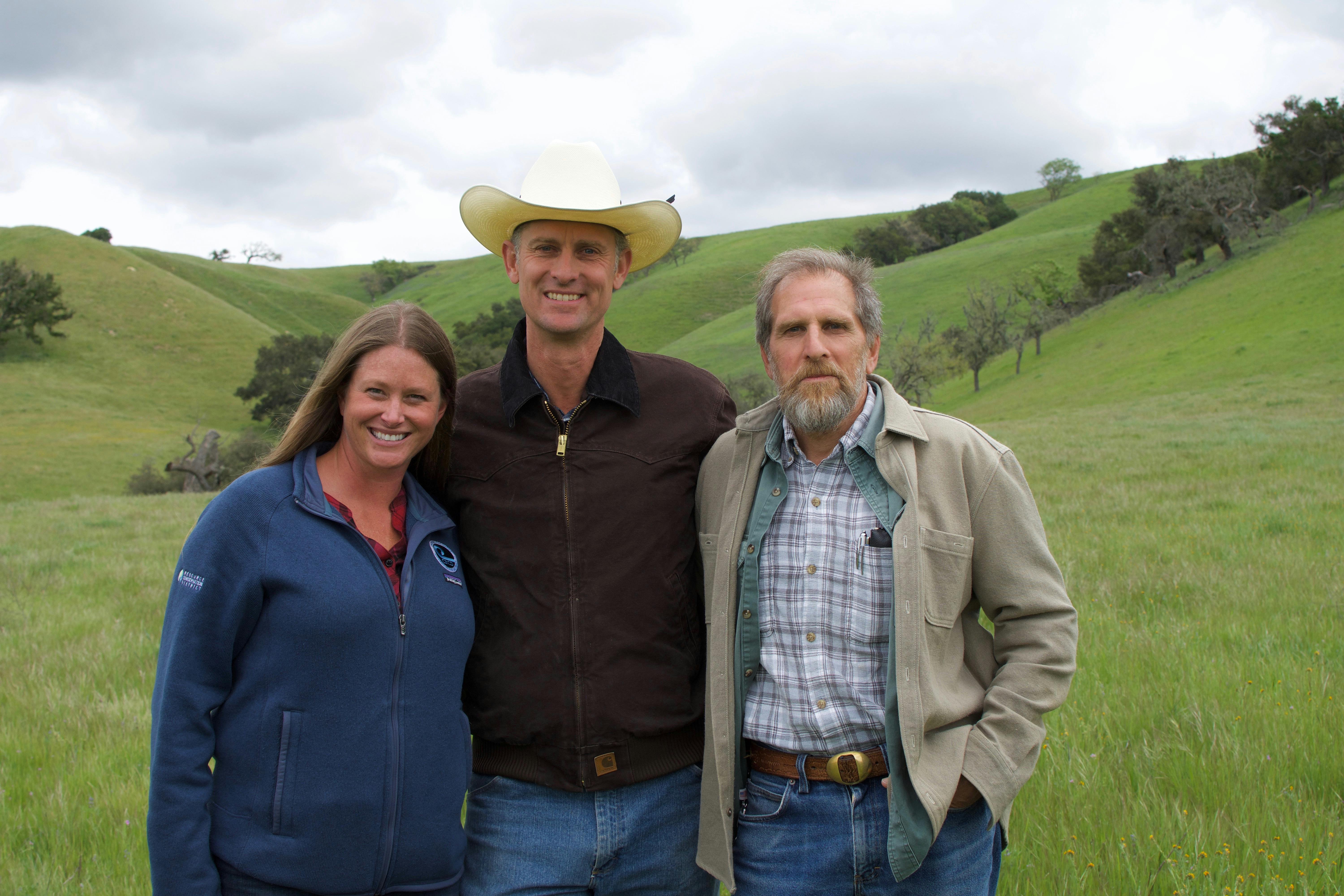 This is why the involvement of RCDs, nonprofits like CCI and support from government programs are essential to encourage farmers to move towards Carbon Farming. Agriculture is capable of pulling atmospheric carbon down into the soil. This will in turn increase farm production, soil water storage and biodiversity. Agriculture is a critical tool in the fight against climate change and we need to equip farmers with the education, tools and funding needed to participate in that fight.
In year three of implementing their CFP, Chamberlin Ranch is already seeing results from the practices they've adopted. There are now a larger variety and greater abundance of grasses across the ranch, and there are new oak seedlings. There has also been a 40% increase in the ranch livestock carrying capacity, specifically due to the grazing management. Russell jokes that his ranching neighbors have commented enviously on the obvious improvements. We must increase the essential technical support and financial resources to farmers and ranchers so they can ramp up the adoption of these carbon farming practices. For their benefit, and ours.