From April 22-26, the Women's Earth and Climate Action Network (WECAN) International, an LDF grantee, hosted an Indigenous Women's Delegation to New York City for the United Nations Permanent Forum on Indigenous Issues (UNPFII) Eighteenth Session. The UNPFII is a critical international forum for Indigenous women to have their voices, responses, and solutions heard by the public, media, and government representatives.
Indigenous women delegates from North and South America spoke out against the environmentally and socially destructive activities and policies threatening their homelands, and they presented their visions and strategies to shape a healthy and equitable future for their communities and the Earth. They particularly focused on the connections among climate solutions, Indigenous rights, women's leadership, forest protection, and work to stop fossil fuel extraction.
Among other advocates, Sônia Bone Guajajara, National Coordinator for the Articulation of Indigenous Peoples of Brazil (APIB), was represented on the Delegation, reinforcing messages of increased assaults on Indigenous people and the Amazon Rainforest in Brazil. Brazil's indigenous women have been leaders in an international effort to defend tribal land rights, which are under enormous pressure from right-wing President Jair Bolsonaro.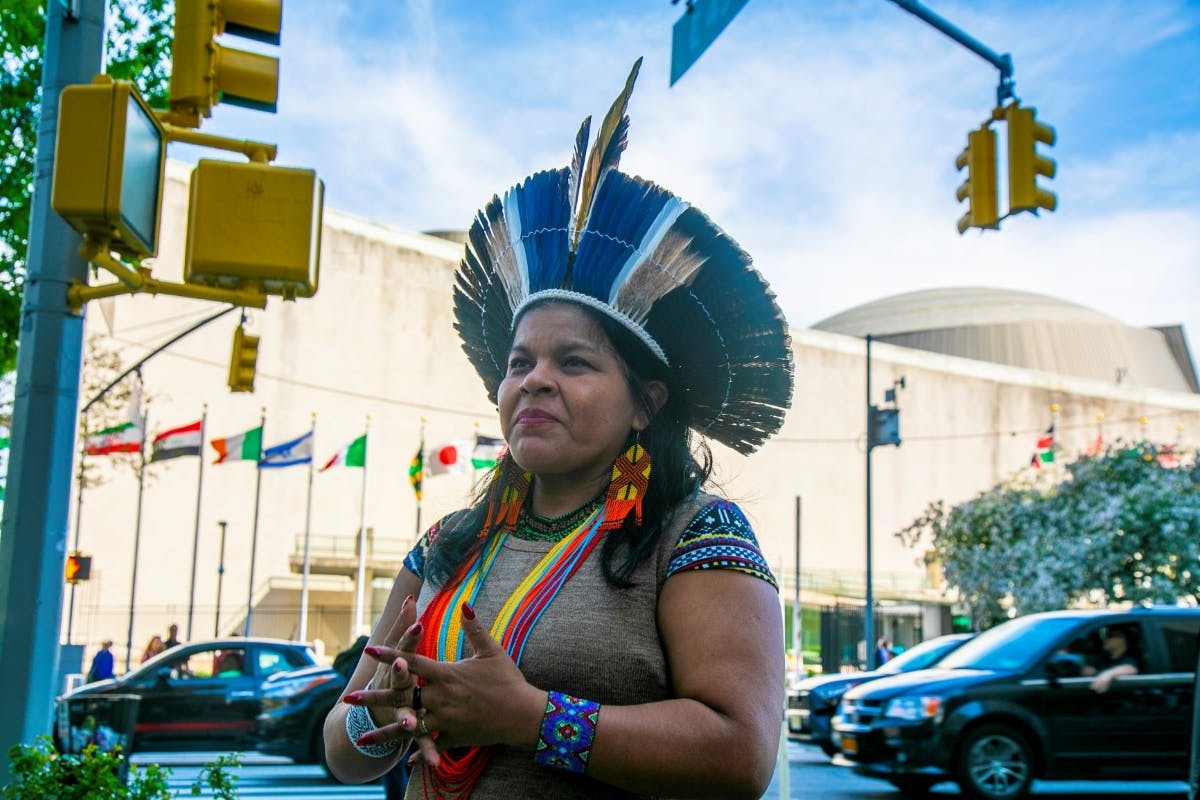 Sônia spoke at a high-level event at the United Nations moderated by Alec Baldwin and shared critical information with CNN and other media outlets. She warned at a UN forum and at WECAN International's public event that President Bolsonaro's plans to open up indigenous ancestral lands to mining and agriculture could devastate the Amazon, the world's largest rainforest, which scientists say is nature's best defense against global warming.
WECAN International, Amazon Watch (another LDF grantee), Defend Democracy in Brazil Committee, and Brasil Solidarity Network also co-organized a rally and petition delivery at the Permanent Mission of Brazil. The rally, led by Indigenous peoples, again featured Sônia Bone Guajajara, who denounced Brazilian President Bolsonaro's egregious attacks on Indigenous rights and territories, particularly in the Amazon. The Brazilian Indigenous leadership of the Coordination of the Indigenous Organizations of the Brazilian Amazon (COIAB) and APIB co-authored the petition, which called for the Brazilian government to reinstate fundamental human rights standards and protect the Amazon's ecological integrity.

For the petition delivery, WECAN International was able to secure a face-to-face meeting for Sônia to deliver the signed petitions directly to the UN Ambassador to Brazil and convey to him the demands of Indigenous peoples and their call to protect the Amazon.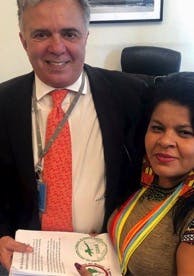 WECAN also organized the public forum, "Indigenous Women of the Americas Protecting Mother Earth: Struggles and Climate Solutions," to share stories and analysis from Indigenous women of the Americas. The women leaders discussed how traditional knowledge guides their work as they challenge governments, corporations and big banks to stop destructive activities, and to instead promote Indigenous-led solutions that uplift communities and stop the worst effects of climate change.
Indigenous women forest defenders in Ecuador and Brazil are the backbone of movements to protect the Amazon rainforest and their communities, and WECAN is dedicated to supporting these women leaders and visibilizing attacks on them due to their efforts. The Amazon is critical to the global climate, and research shows that the most effective way to protect the Amazon is by supporting Indigenous rights and the Indigenous peoples in their territories. Please consider supporting the work of Sônia Bone Guajajara and the organizations above during this critical time.
WATCH AND SHARE WECAN's video of Sônia speaking out in New York City:
Facebook: https://www.facebook.com/WECAN.Intl/videos/279168663033821/