In the last 100 years, wild tiger populations declined dramatically – from around 100,000 to just a few thousand – due to rampant poaching and habitat destruction. Tigers were headed toward extinction. To respond to this crisis, governments of the 13 countries where tigers live in the wild came together in 2010 to create an ambitious Global Tiger Recovery Plan: to double the number of tigers in the wild by 2022, the next year of the tiger.
World Wildlife Fund (WWF) and LDF joined forces to meet the Tx2 goal in Nepal - working across the Terai Arc Landscape to strengthen anti-poaching patrols, protect core areas for tiger breeding, continuously monitor tiger populations, and restore critical corridors to ensure tigers have the freedom to roam.
LDF's eight-year partnership with WWF on this project has been instrumental in driving conservation gains for people, tigers and their habitat across the Terai. The country as a whole has made incredible progress toward achieving the goal of doubling the number of wild tigers – and is on track to becoming the first country to do so. Working alongside government and local communities, WWF's efforts have been instrumental in improving park management, protecting tigers, conserving habitat, reestablishing corridors, and continuing to engage local people as the stewards of their natural resources.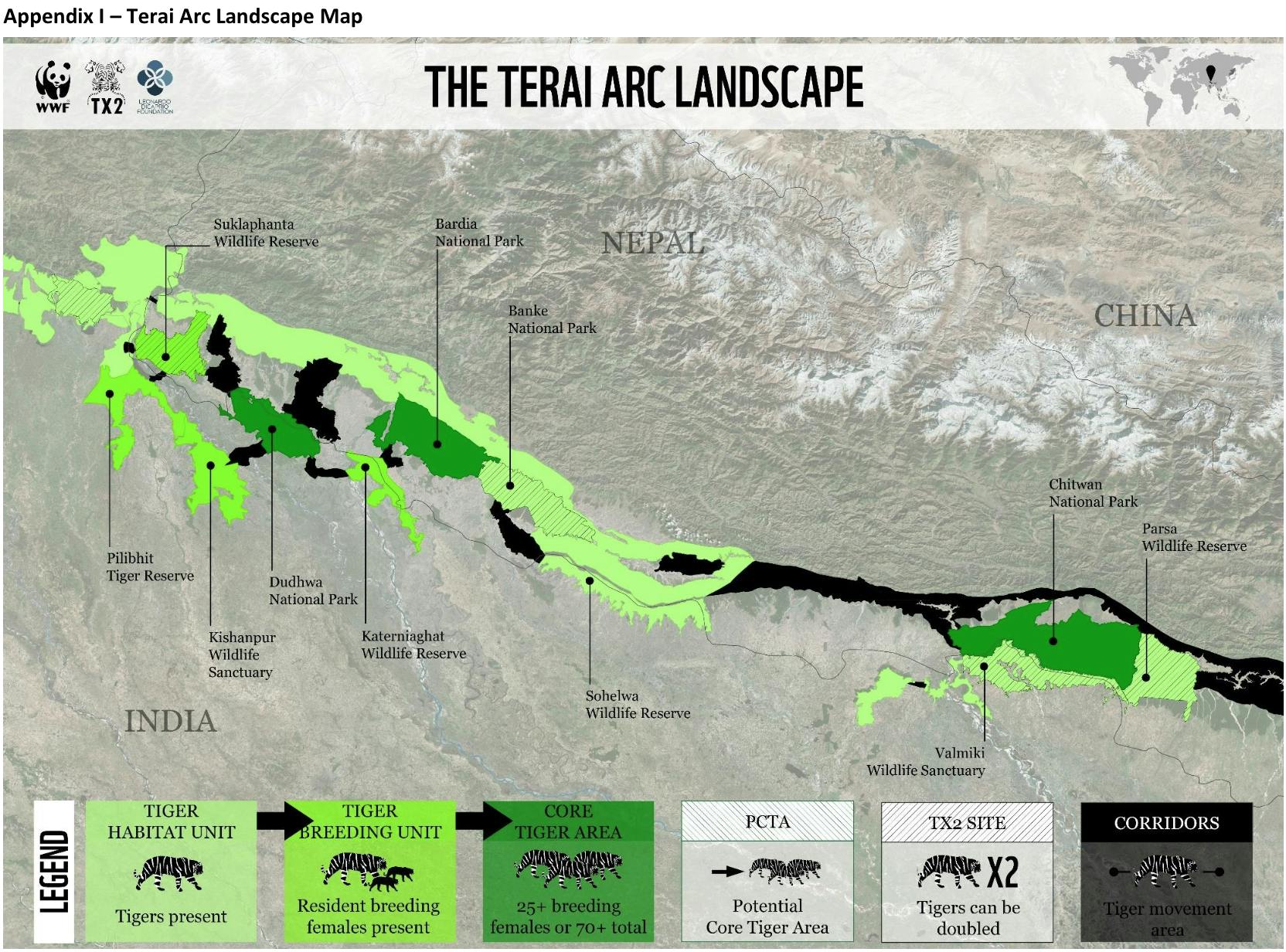 The work underway in the Terai Arc is not only benefitting wildlife and people across this rich landscape, but also creating a model of success that can be adapted to recover tigers in other landscapes.
Major project accomplishments to date include:
1,624 park and protection staff trained to collect key data on poaching and other illegal activities using SMART, an app-based platform for smartphones, tablets, and a central command center using GPS to track patrols, patrolling efficiency, map hotspot areas for poaching, and to respond to threats to the park in real time.
Real-time SMART technology is now in use in 99 guard posts in the protected areas of the Terai. In the last year, SMART patrolling covered nearly one million miles and used along with informant mobilization, led to the detainment of 518 poachers.
31 Community Based Anti-Poaching Operations (CBAPOs) formed to monitor and combat poaching in community forests. Comprised of local youth volunteers who patrol forests and have a passion and commitment for the conservation of forests and wildlife, the CBAPOs have been a crucial factor in achieving zero poaching in Nepal four of the past five years
39 rapid response teams (RRT) have been trained and mobilized to respond to human-wildlife conflict events.
1,857 acres of grasslands, which are critical for tigers and their prey species, have been managed in core Terai habitat.
Construction and management of 31 wetlands and waterholes that play a crucial role in wildlife conservation, particularly during water deficit periods, as they provide sources of water for drinking and wallowing.
Renovation and construction of 35 guard posts and equipment provision for 24 additional posts to secure the national parks and wildlife reserves in the Terai and to prevent poaching and illegal activities.
Ninety nine miles of fireline constructed and 383 miles of fireline maintained in Banke, Bardia, Chitwan and Suklaphanta to enhance mobility and monitoring within remote areas.
Human tiger conflict mitigation was supported through the construction of 27 miles of solar electric fencing to prevent wildlife from entering villages and agricultural land and 456 predator resistant pens to protect livestock.
Human-wildlife conflict relief endowment funds were established in the buffer zones around the parks. These funds provide scholarships for human-tiger conflict affected families and also provide critical aid for local people adversely impacted by tiger encounters.
Nepal's tiger population increased by 63 percent between 2009 and 2013. This population growth is being driven by the efforts underway Bardia and Banke national parks where tiger numbers continue to increase. The third national tiger survey is currently being conducted in Nepal.