The island of Sumatra, Indonesia, is one of the most biodiverse places on the planet. Less than a generation ago, most of Sumatra was verdant rainforest—the reason Indonesia got the nickname "Emerald of the Equator." Unfortunately, Sumatra has lost at least half of its forest cover since 1985, primarily for agriculture, palm oil and pulp and paper operations. Some of the world's most threatened species are getting squeezed into ever-shrinking islands of forest in a sea of palm oil and pulp plantations. This deforestation and the release of carbon stored in these forests has been on such a scale that it has made Indonesia one of the world's largest emitters of greenhouse gases.
One of the bright spots here is a block of tropical forest in central Sumatra called Bukit Tigapuluh, or "30 Hills." This forest is one of the last refuges in the region for critically endangered Sumatran tigers, elephants and orangutans. Two indigenous tribes, the Orang Rimba and the Talang Mamak, also inhabit this area, living a forest-dependent lifestyle as they have for generations.
Since 2010, LDF has been actively working with a team of creative and strategic partners to permanently protect 30 Hills. This work resulted in a landmark success — securing a long-term lease from the government of Indonesia to manage a key part of the forest in 30 Hills.
Through an ambitious project that combines traditional conservation and a startup business enterprise, World Wildlife Fund (WWF), Frankfurt Zoological Society (FZS) and The Orangutan Project (TOP) have joined forces with local communities to actively manage and restore nearly 100,000 acres of former logging forest. The entire Thirty Hills landscape is about 800,000 acres of forest, including a 330,000-acre national park at the center of the landscape. Protecting these forests from clearing will not only provide a refuge for wildlife but also keep intact large stores of forest carbon.
These partners are also leading an effort to bring together commercial plantation companies, local communities and social and conservation groups across the larger 30 Hills landscape to create a comprehensive approach to managing 30 Hills for the benefit of wildlife and indigenous people. Creative approaches include working with rubber companies to develop wildlife-friendly rubber plantations, joint patrolling with other landholders to deter illegal loggers, and collaborating with local communities to market their sustainably harvested medicinal plants, honey, jungle rubber and handicrafts made from 30 Hills natural products.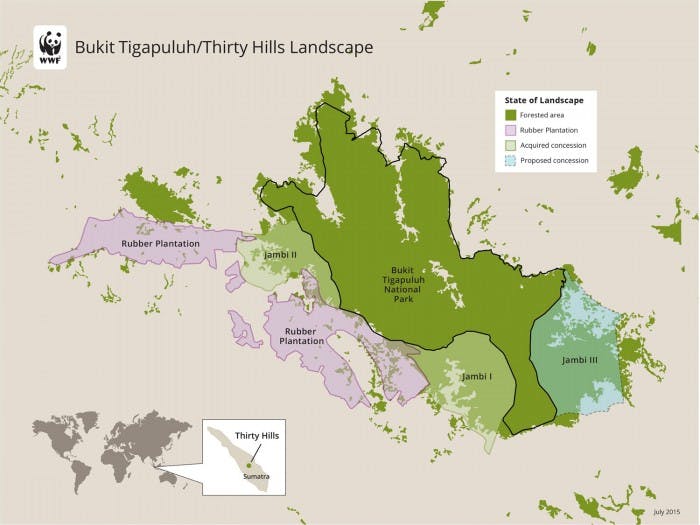 One of the most significant conservation accomplishments thus far has been 30 Hills partner, Michelin's, agreement to convert 10,000 hectares (25,000 acres) of its rubber plantation into a Wildlife Conservation Area abutting the Bukit Tigapuluh National Park that will connect the two forest blocks of the concession. Additionally, as a result of the work in 30 Hills, Michelin last year released the rubber industry's first zero deforestation policy, one that is serving as a model for the industry.
Thirty Hills partners are also celebrating the first orangutan birth in the concession. Violet, a rescued orangutan who was released into the national park, gave birth to a baby girl, Vanilla. Both mother and daughter are doing well and make regular appearances around the field camp of FZS.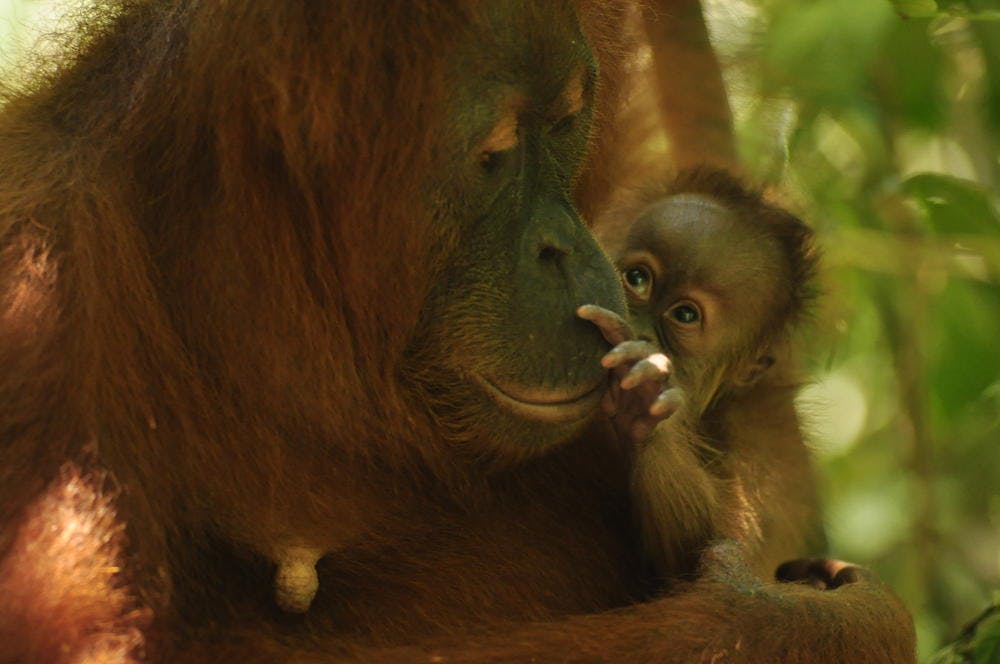 The birth of Violet's daughter is an encouraging sign of our work in 30 Hills. We're committed to ensuring this spectacular forest and its wildlife survive long term and will continue to develop a market-based solution to a market-driven problem in a way that benefits all inhabitants of this remarkable ecosystem.