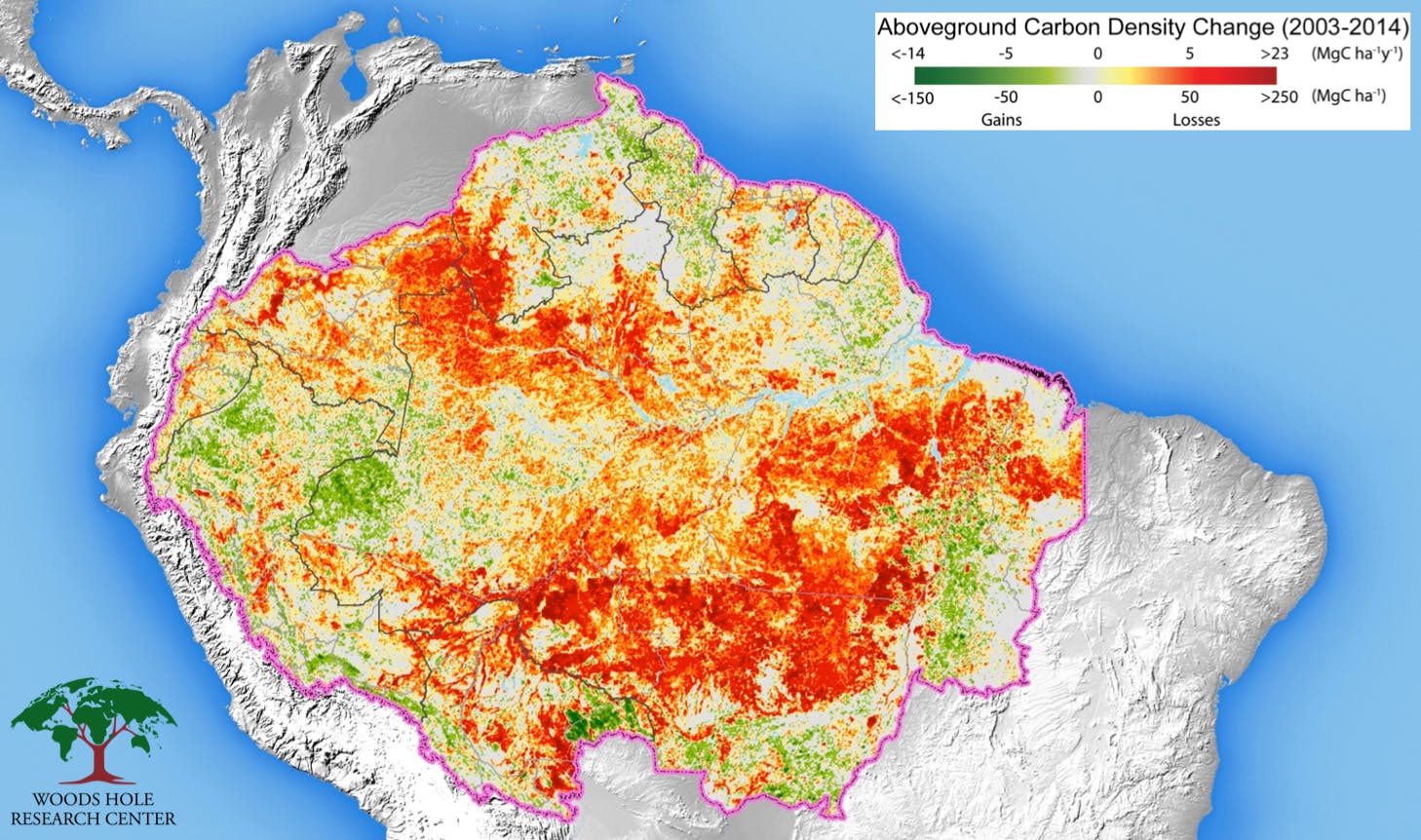 The Woods Hole Carbon Monitoring System (Woods Hole CMS) is an innovative, satellite-based tool developed by scientists at the Woods Hole Research Center (WHRC), that is poised to transform how the world measures and tracks changes in forest carbon.
Accurately measuring changes in the carbon stored aboveground in forest biomass at local to global scales is critical for tracking trends across the spectrum of forest change. However, current methods of measuring these changes are largely limited to areas of land that have been deforested. This limitation means that changes can only be identified after-the-fact, when the forest and all of its carbon, biodiversity, and associated ecosystem services have been lost. Furthermore, conventional approaches to monitoring tend not to account for gains in carbon storage over time.
Woods Hole CMS has several advantages over existing approaches including the ability to:
• Account for annual losses in forest carbon associated with forest degradation and disturbance as well as from deforestation. Measuring forest degradation has long challenged scientists, land managers and conservationists. With this new system, we are able to identify where degradation is occurring, quantify how much carbon is being lost, and give managers the opportunity to intervene while the forest remains standing.
• Account for annual gains in forest carbon associated with growth. This, too, has challenged the scientific and management communities, and is particularly important for landowners and policymakers seeking to secure financial incentives from market-based climate change mitigation mechanisms designed to reduce emissions and/or enhance carbon storage.
• Track changes in net forest carbon emissions with greater frequency, consistency, and accuracy than was previously achievable while eliminating the need for land cover strata or area change products.
A key value proposition of the Woods Hole CMS lies in its potential to be updated at increasingly higher frequencies (e.g., annually, seasonally, monthly, etc.), providing actionable information for use in national and international decision making in near-real time. The Leonardo DiCaprio Foundation's support will allow WHRC to improve the performance of the system's underlying source code, enabling near real-time updates and multiscale (local, national, regional, global) analyses with perhaps just a few clicks of a mouse. The result will be an efficient and user-friendly tool that will provide more rigor to our understanding of the climate system and improve forest and land management outcomes all while moving the world closer to climate solutions through mechanisms like the Paris Agreement.