The negative effects of climate change on the environment are undeniable. What can sometimes be less obvious are the ways in which climate change and its impacts contribute to insecurity, displacement, and conflicts. In fact, most major armed conflicts of the past decades have an important link to the mismanagement of natural resources and the environment—for example, conflicts with origins in disputes over land distribution or allocation of benefits from oil development, and conflicts financed in part by diamonds, gold, ivory, and other natural resources. This trend is set to grow due to the dwindling availability of critical resources such as water and forests. To address the underlying causes of conflict, environmental peacebuilders are working to identify and investigate the connections between climate, environment, and security. A new massive online open course on
Environmental Security and Sustaining Peace provides an opportunity for people from around the world to share their own experiences and learn more about these issues.
The environment has huge potential to provide the foundation for peacebuilding and conflict resolution, and peacebuilding professionals are not the only ones to put this theory into practice. Natural resources often transcend political and national boundaries and serve as important lifelines for people on opposing sides, regardless of their role in a conflict. Even in the most challenging circumstances, there are incredible and inspiring stories of environmental peacebuilding coming from around the world. Below are just a few examples in which ordinary people have brought about extraordinary change in their local communities.
For Colombian entrepreneur Ivan Rodríguez, environmental peacebuilding translates first and foremost into economic opportunities. "Until you eradicate the coca business, you will never have peace and security in Colombia. People need alternatives that pay at least as much as coca." To create these alternatives, Ivan helps develop small businesses and empowers marginalized groups by employing women, ex-militia, and victims of violence in industries such as beekeeping, artisanal mining, and agroforestry.
Fellow Colombian Gloria Luna runs a women's network in the Chocó region of Colombia. In an area plagued by illegal gold mining, the network members agree that the temptations offered by illegal mining can only be rivalled by creating more sustainable livelihood alternatives. Gloria believes that "women's engagement in peacebuilding should begin by asking them what they need to restore their livelihoods" and she advocates for putting women in the front and center of the peace process.
In war-torn Afghanistan, local people have discovered other ingenious ways to use the environment to bring peace and restore livelihoods. "We have our own local ways to make sure everyone has fair access to land and water when they need it, but when these systems are disrupted by conflict, then nobody benefits," says Fatima Hassani, who was forced to flee from Afghanistan as a young girl. Now, Fatima is a leading authority on the connections between the environment and conflicts. Inspired by her own experiences living in a conflict-prone area with heavy dependence on scarce natural resources, Fatima joined Afghanistan's National Environmental Protection Agency where she advises on the importance of natural resources in sustaining peace.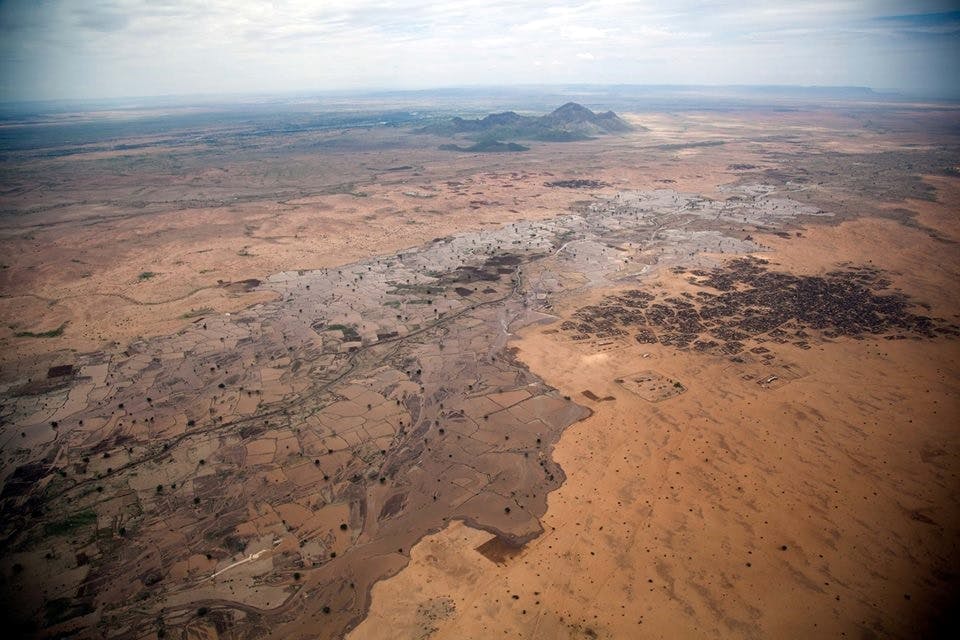 In the Darfur region of Sudan, community leader Omda Omer has worked tirelessly to rebuild trust between traditional herding communities and farmers after violence displaced farmers from six village councils that were involved with a UN Environment-sponsored project in the Wadi El Ku watershed. Omda participated in a meeting facilitated by UN Environment, Practical Action, the University of El Fasher, and community leaders to rebuild trust between the displaced farmers and pastoralists. The meeting improved the local security situation by opening impartial channels for dialogue between the communities, and for Omda, is "a model for how relationships can be rebuilt over natural resources."
The driving philosophy that unites these and other environmental peacebuilding projects is the desire to use the environment and natural resources as a source of cooperation rather than conflict. That is why in 2018, the first massive open online course (MOOC) on Environmental Security and Sustaining Peace was launched by the Environmental Peacebuilding Association. Over 10,000 people enrolled in the course with a keen desire to both learn and share their personal stories how the environment and natural resources can be used for peace. This course was organized in partnership with the SDG Academy, an online learning provider associated with the UN's Sustainable Development Solutions Network, and the Environmental Peacebuilding Association. This course smashed previous records for MOOC enrolments by the SDG Academy and became the most popular MOOC of UN Environment.
Building on the overwhelming popular demand for the course, the course faculty will launch a second iteration of the MOOC on February 11th. The goal is to help spread the knowledge, grow the community, and increase the impact of environmental peacebuilding around the world. This is embodied in the course tag line: connect, exchange, inspire.
Joining the MOOC is all about engaging with others, experts, and peers, and forging relationships that can be translated into action in the real world. While the course itself is free, the price of admission is active engagement. Together, we can take forward this global movement of environmental peacebuilders to find practical solutions to the greatest challenges of our generation.
The eight-week course introduces students to the field of environmental peacebuilding and brings together an international group of peace and security specialists, natural resource practitioners, development professionals, scholars, and students to engage in dialogue about how to harness the positive peacebuilding potential of the natural world. Faculty from UN Environment, the Environmental Law Institute, Columbia University, Duke University, the University of California – Irvine, the UN Development Programme, and American University will introduce students to key concepts and show what successful interventions have in common. Ultimately, it is the course participants themselves who represent the most valuable source of knowledge. One of the defining futures of this MOOC is its ability to bring together participants from all over the world with different backgrounds to create an interactive exchange of knowledge and ideas.
The course also introduces students to the use of emerging technologies like online mapping platforms and big data. Mapping exercises using the UN's MapX platform allow students to share experiences in solving problems, access best available spatial data, and co-create innovative solutions and story maps for natural resources and conflict. In doing so, this course helps train a new generation of global citizens on how sustainable and inclusive natural resource management in conflict-affected settings can help forge the path to peace. Online learning opportunities such as this MOOC provide a cost-effective way to expand the reach of the environmental peacebuilding field and equip future leaders with the knowledge and skills they need to make an impact at the local level.
Interested? Please join on February 11, 2019 for the launch of the second edition of the MOOC. After completing the course, participants are invited to join the Environmental Peacebuilding Association to continue the exchange, learning, and collaboration. The Association provides a dedicated space for practitioners working on environment, conflict, and peace to remain connected. The community does not only exist virtually: in 2019, the First International Conference on Environmental Peacebuilding will be held from October 23-25, 2019 in Irvine, California.
To enroll and for more information, please visit the course page here >