Improving Fisheries in the Mesoamerican Reef (Rare, WCS, Centre for Marine Studies)
Spanning four countries, the Mesoamerican reef stretches over 1,000 kilometers from the northern tip of the Yucatan Peninsula in Mexico to the Bay Islands in Honduras. It is the dominant ecological feature in the Caribbean and home to a remarkable array of marine life, including some of the world's largest remaining populations of manatees and turtles. Nevertheless, a paucity of accurate fisheries data is an ongoing barrier for effective marine management. Further, the threat of illegal fishing and the limited control and monitoring systems in place to regulate fishing activity undermines the ability of reserves to contribute to sustainable fisheries production.
This project will improve management and compliance of small-scale commercial fisheries by implementing electronic licensing, vessel tracking and catch documentation systems and improving the use of these data for monitoring fisheries management efficacy. Additionally, the project aims to identify and secure long-term public financing to support country-wide fisheries data collection and the use of these data for ongoing monitoring and management decision making.

Transshipment Governance in the Western and Central Pacific Ocean (Pew Charitable Trusts, WWF, Australian National Centre for Ocean Governance and Security (ANCORS), and Pacific Islands Forum Fisheries Agency (FFA))
The transshipment of tuna, which commonly involves both purse seine and longline vessels transferring fresh fish to large carrier vessels, both at sea and in port, for transport back to shoreside processing hubs, is an important part of the tuna supply chain. However, lack of monitoring and regulatory oversight of this activity, especially at-sea transshipments involving longline vessels, means that over $142 million USD of illegal, unreported and unregulated (IUU) product is linked to transshipment in the WCPO each year.
While data and information on transshipment activities are collected by both vessels and independent observers, no single management body has access to the range of documentation necessary to create a full and complete picture of the transshipment activities that occur in the WCPO region. The organizations are cooperating to conduct a comprehensive review of transshipment monitoring and regulation in the WCPO and then develop and implement high quality standards for the governance of transshipment.

Protecting the South Atlantic from IUU fishing and Human Rights Abuses (Gaia Foundation)Even though Uruguay is the second smallest country in South America, the Port of Montevideo supports a significant amount of the overfishing and IUU fishing in the South Atlantic. Multiple reefer and IUU fishing vessels dock regularly at the Port of Montevideo, and many of these vessels have been previously denounced or prosecuted by other countries because of IUU fishing, human rights abuses, and drug trafficking.
Uruguayan elected officials have very little awareness about Montevideo's involvement in global IUU fishing. However, there seems to be significant interest in correcting the problems at the Port. This 18-month proposal includes policy advocacy and communications to combat IUU fishing and human rights abuses in the South Atlantic. Key activities include building support among artisanal fishing unions and environmental organizations, monitoring the IUU fishing fleet, educating scientists and government officials, and building capacity at the local level.

Pacific Electronic Monitoring-Reporting (TNC) There are more hooks and nets in the ocean catching tuna than any species in the world, and the Western and Central Pacific Ocean tuna fisheries alone are worth $5-7 billion annually. However, recent analysis concluded that almost half of the catch was IUU.
Electronic monitoring (EM) systems can bring transparency to otherwise opaque fishing operations. TNC is implementing a large and comprehensive program to promote widespread adoption of EM systems in the WCPO tuna fishery with activities designed to influence development of: pilot programs with fishers and fishery managers to identify and mitigate technological challenges; advocacy campaigns to promote streamlined local, national, and international policies to accelerate EM adoption; and private sector initiatives to reward early EM adopters and penalize laggards.

ETP Regional Enforcement Strategy (Pacifico)
The Eastern Tropical Pacific (ETP) includes the EEZs of Colombia, Costa Rica, Ecuador and Panama, plus adjacent high seas. The ETP encompasses many unique habitats and four globally recognized MPAs, but also confronts multiple threats such as overfishing, IUU fishing, and drug trafficking. Until recently, there has been little inter-jurisdictional collaboration.
In November 2017, PACIFICO coordinated a high-level meeting between the ministers of environment and security/defense from Costa Rica, Panama, and Ecuador, resulting in an agreement to create a "Regional Marine Enforcement Strategy," which is expected to soon include Colombia. This commitment presents a unique opportunity to advance fisheries transparency policies. To further these efforts PACIFICO will help build a governance structure for the development and implementation of the strategy, including introduction of transparency policies, and ensure the incorporation of Colombia in future efforts.
Implementing Measures Against IUU Fishing in Japan (GR Japan)
Oceans 5 is supporting GR Japan, a government relations firm that seeks to influence this process by supporting research, developing policy recommendations, engaging ministries, and helping build civil society capacity.
Currently, Prime Minister Abe's Cabinet Office is directing a fisheries reform task force that is expected to develop policy recommendations in 2018 that will support the introduction of new legislation in the Diet in 2019. The project's goal is to achieve the implementation of effective measures to combat IUU fishing and to eliminate imports of IUU products, including through Japan's ratification of the Port States Measures Agreement and the establishment of appropriate traceability requirements for imported and domestic seafood. GR Japan will closely coordinate their efforts with other non-governmental organizations who share the same goal, including identifying and advising on the role each organization should play.

Improving Transparency in Korea & Taiwan Citizens Institute for Environmental Studies (CIES), Korean Federation for Environmental Movement (KFEM), Advocates for Public Interest Law (APIL), and Environmental and Animal Society of Taiwan (EAST)
South Korea and Taiwan have some of the world's largest distant water fleets; however, both nations operate with little oversight or control from Seoul or Taipei. Although there have been significant management reforms for distant water fleets in both countries, recent efforts to amend fisheries and IUU legislation have stalled in because of opposition from the fishing industry.
Oceans 5 support allows CIES, KFEM and APIL in Korea to form a network and propose a collaborative and coordinated program of work that will attain improvements to transparency in South Korea's distant water/domestic fishing fleets; achieve benchmarked improvements to the legal framework for fisheries control and labor conditions in Korea's distant water fleets in line with international best practice; implement fisheries (both domestic and distant water) and labor legislation in Korea; and get Korean industries incorporate IUU fishing and human rights risks into their due diligence processes.

West Africa Fisheries Transparency Policies (Trygg Mat Tracking)
Sub-Saharan Africa includes some of the world's poorest communities, many of which are highly dependent on fisheries that have been exploited by distant water fishing nations for decades. The project seeks new transparency policies in Ghana that will be leveraged to other nations within the West African Task Force. This region includes significant distant water activity from China, Russia, Korea and the European Union. If successful, the new policies will impart transparency obligations on distant water vessels in the region, which will support national-level reforms within Asia. Importantly, Ghana was the first nation to be yellow-carded by the European Union, which continues to exert influence on Ghanaian IUU policies. The project also includes two research products to define the nature and extent of distant water fishing throughout Sub-Saharan Africa.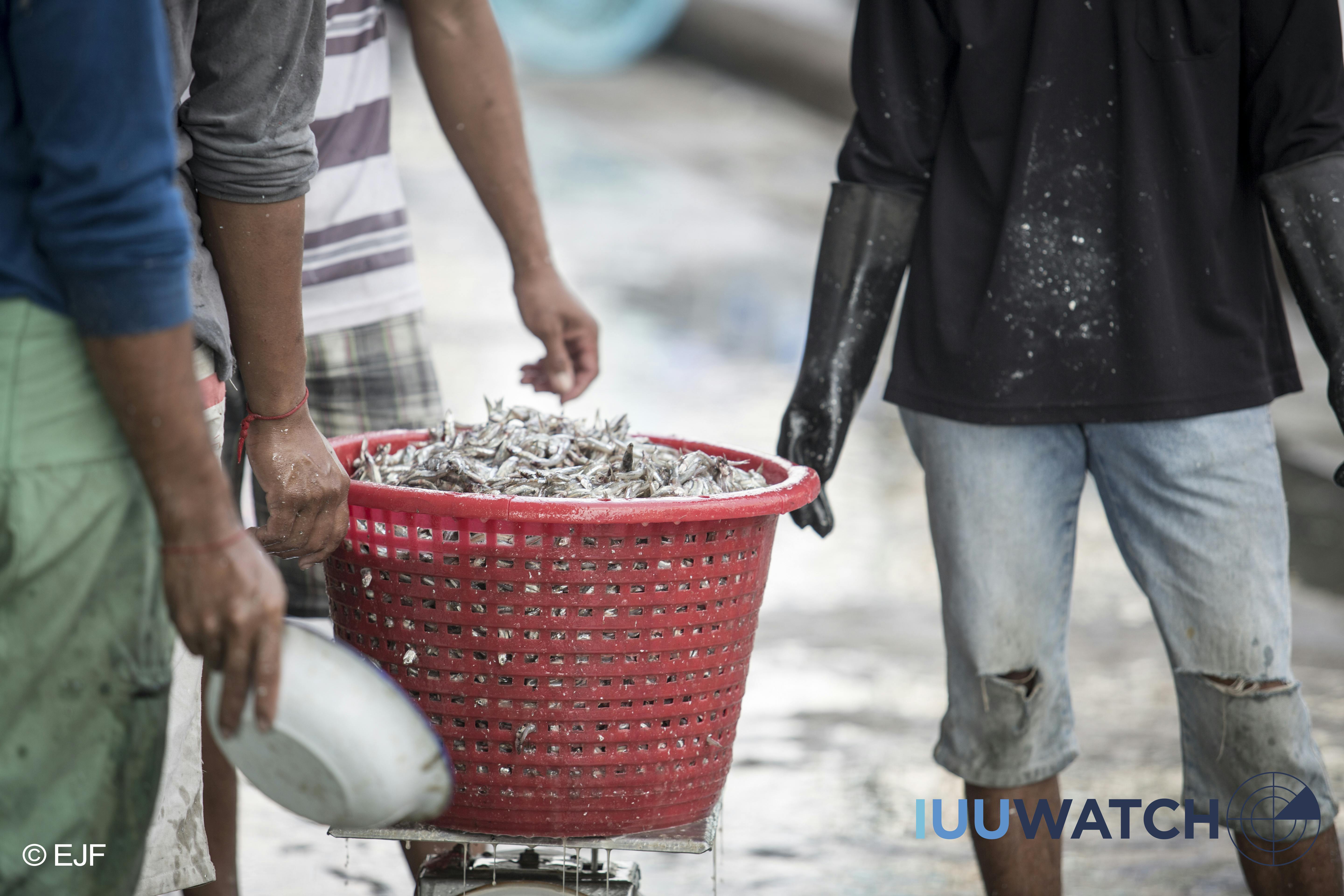 Leveraging EU Leadership for Global Change (Environmental Justice Foundation)
The European Union is world's largest seafood market, and, in 2010, it established some of the world's most comprehensive and effective policies to combat IUU fishing. These policies include a unique carding scheme which can impose import restrictions on third countries that do not control IUU effectively. Since its inception, the EU has issued warnings (yellow card) or import bans (red card) to 25 countries and engaged in dialogues with more than 50, leading to significant fisheries management reforms in countries like Belize, Thailand, Ghana, and Korea. However, the carding scheme is somewhat controversial due to lack of clear criteria for determining which countries and policies are targeted for reform, irregular carding announcements, and uneven policy successes.