The Leonardo DiCaprio Foundation, established in 1998 with the mission of protecting the world's last wild places and endangered species, has been recognized for its efforts on the issues of environmental crime at the inaugural award ceremony of the INTERPOL Environmental Compliance and Enforcement Committee (ECEC), hosted by the Scottish Environment Protection Agency (SEPA) in Edinburgh.
The award for Outstanding Achievement was awarded to the foundation for its work to elevate and address the most urgent environmental challenges we face. At the forefront of its agenda is the urgency to act on the planetary crisis of accelerated climate change, and unprecedented loss of biodiversity from wildlife crime and illegal deforestation and fishing. Their work with global leaders, and their reach to the broader public makes the foundation a deserving winner of the first award issued by INTERPOL.
A second award, for Best Enforcement Initiative, was picked up by the Pollution Working Group of the ECEC for its 30 'Days of Action' operation, which was the largest-ever global operation targeting the illegal transport and disposal of waste involving police, customs, border, and environmental agencies from 43 countries participating, as well as non-governmental partners such as IMPEL and the UN Environment REN project for chemicals and waste in Asia.
The awards took place on day two of the INTERPOL conference, at the Edinburgh International Conference Centre, which also played host to the World Forum for Natural Capital. Bringing the conferences together was a global first that saw the world's leading environmental figures, including the Deputy Director of INTERPOL Daoming Zhang, share a platform to create new partnerships and scope out new opportunities for collaboration.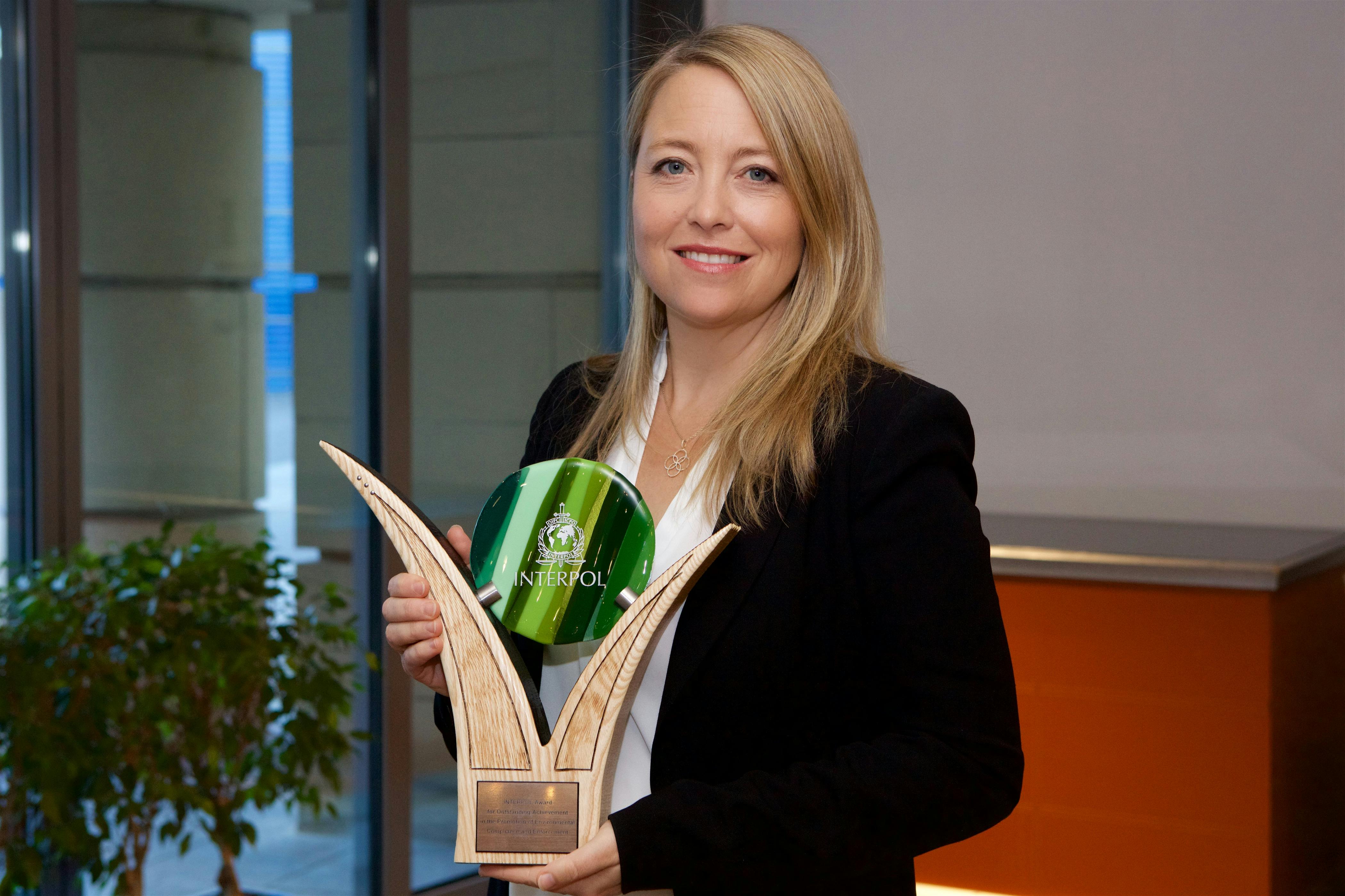 Justin Winters, Executive Director of the Leonardo DiCaprio Foundation, accepted the award. Here is a transcript of her speech:
Thank you so much for acknowledging our work to address the many environmental threats facing our planet. It's truly an honor given that so many of you here today have committed your lives to tackling the issues that we also care about, enormously complex issues like wildlife crime, illegal fishing and environmental pollution.
Since the very beginning of the Leonardo DiCaprio Foundation, Leonardo was committed to both supporting the best efforts to protect the planet as well as using his unique global platform and voice to drive awareness and action on critical environmental issues. In early 2000 the foundation launched his website to shine a light on environmental issues, and then a decade ago with the advent of facebook we began using social media to help grow the movement of people who care about the state of the planet.
Today through Leo's and the Foundation's channels we are reaching over 55 million people - our digital communications are now garnering 1.5 billion impressions a year. We work closely with a wide array of trusted partners, organizations and leaders to use these channels to expose the truth about the impact humans are having on the planet, to shine a light on local heroes in the field, and to galvanize people into action at critical moments.
Just last week we saw the power of digital media in full effect when the Trump administration threatened to lift the US ban on trophy imports, including ivory from elephants. People on both sides of the political aisle were outraged by the move. The cacophony of voices calling to protect elephants across social media was deafening. Just days later Trump backed off his position, promising to reconsider lifting the ban. Though the administration hasn't made a final decision, we were heartened by the public outcry. People do care, and they will fight to protect species whose very existence is threatened.
In addition to our communications work, LDF is committed to building diverse partnerships and creating new models of philanthropy to turn the tide for threatened species and key ecosystems. The Elephant Crisis Fund is one of our best examples. Built in partnership with Wildlife Conservation Network and Save the Elephants, ECF has raised and distributed over $12 million dollars to anti-poaching efforts to stop the killing of elephants, anti-trafficking projects to prevent ivory from reaching markets; and demand-reduction efforts that make the trade in ivory products ultimately obsolete.
With over 100,000 African elephants lost since the upsurge in poaching that started in 2009, it's clear that the ivory crisis is too big for any one organization to solve. It requires a multipronged response from a coalition of effective leaders, organizations, governments and agencies like Interpol. Just a few years ago Interpol issued a red notice (an international arrest warrant) on renowned ivory trafficker Feisal Mohammed. This action led to his arrest and extradition to Kenya followed by a 2-year court case that ultimately secured a 20-year conviction against the trafficker. The Elephant Crisis Fund provided critical support for the court case through partner organization Wildlife Direct. Today, more charges are being brought against important smugglers in multiple countries across Africa through similar collaborative efforts.
I know that the mounting threats against our planet can feel daunting- and for many of you in the field it must be difficult to remain hopeful when you witness so much devastation. But I can assure you that there is a vast network of amazing people all over the world who are committed to solving these problems and who are showing us a new path forward, one where nature and humanity can coexist and thrive. Let's continue to collaborate and build deep partnerships to solve issues like climate change, pollution and crimes against nature. Together we can be more effective and resilient, and ultimately, we can pave the way to a brighter future.
Thank you again.